<![if !vml]>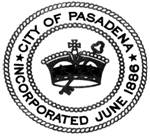 <![endif]><![if !vml]>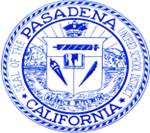 <![endif]>
NOTICE OF SPECIAL JOINT MEETING
OF THE PASADENA CITY COUNCIL
AND THE PASADENA UNIFIED SCHOOL DISTRICT
BOARD OF EDUCATION
MONDAY, FEBRUARY 8, 2016
PUBLIC MEETING: 6:30 P.M.
PASADENA CITY HALL, COUNCIL CHAMBER
100 NORTH GARFIELD AVENUE, ROOM S249
NOTICE IS HEREBY GIVEN that a special joint meeting of the Pasadena City Council and the Pasadena Unified School District's (PUSD) Board of Education will be held on Monday, February 8, 2016 at City Hall, Council Chamber, 100 North Garfield Avenue, Room S249, Pasadena. The special joint meeting will begin at 6:30 p.m. to discuss the following items:
1. CALL TO ORDER AND PLEDGE OF ALLEGIANCE
2. INTRODUCTION OF 2016 ROSE QUEEN AND COURT
3. UPDATE ON COLLABORATE PASADENA
Recommendation: It is recommended that the City Council and PUSD Board of Education receive an update on the 2015 progress of Collaborate Pasadena and overview of the 2016 work plan (Attachment A of the agenda report) for information only.



77k

ATTACHMENT A 290k

ACTION: RECEIVED AND FILED
4. YOUTH MASTER PLAN UPDATE



883k

ACTION: RECEIVED AND FILED
5. UPDATE ON MEMORANDUM OF UNDERSTANDING WITH PASADENA POLICE DEPARTMENT



533k

ACTION: RECEIVED AND FILED
6. UPDATE ON CITY AND PUSD JOINT-USE PROJECTS:
(A) MCKINLEY SCHOOL GYMNASIUM
(B) WASHINGTON MIDDLE SCHOOL GYMNASIUM
(C) JOHN MUIR HIGH SCHOOL SPORTS FIELD IMPROVEMENTS



1348k

ACTION: RECEIVED AND FILED
7. CONCEPTUAL AFFORDABLE HOUSING PROJECTS ON PUSD SITES



1372k

SUPPLEMENTAL MATERIAL RECEIVED AFTER POSTING OF AGENDA

CORRESPONDENCE 39k

ACTION: RECEIVED AND FILED
8. OVERVIEW OF PUSD'S EFFORTS TO DEVELOP A FIVE-YEAR EDUCATIONAL MASTER PLAN



597k

ACTION: RECEIVED AND FILED
9. ADJOURNMENT
____________________

Terry Tornek, Mayor

City of Pasadena

_______________________

Elizabeth Pomeroy, President

PUSD Board of Education
Note to the public: Public comment is limited to items on this special joint meeting agenda. An opportunity for public comment on items on the agenda will be provided when the items are discussed. Please limit comments to no more than 3 minutes each.
Free street parking is available on the streets surrounding City Hall beginning at 5:00 p.m. Free child care will be provided for those attending the meeting at City Hall, 2nd Floor, Room S222.
In compliance with the Americans with Disabilities Act of 1990, Assistive Listening Devices are available at all Pasadena City Council meetings. Assistive Listening headphones and neckloops can be checked out at the desk of the Sergeant-at-Arms, located inside the City Council Chambers.
<![if !vml]>

<![endif]> <![if !vml]>

<![endif]><![if !vml]>

<![endif]>
.
Spanish translation services will be provided at this meeting.
Habrá servicio de interpretación en Español en esta junta.
I HEREBY CERTIFY that this notice, in its entirety, was posted on the Internet at www.cityofpasadena.net/councilagendas and on the Council Chamber Bulletin Board, Room S249, City Hall,
100 North Garfield Avenue, the Pasadena Unified School District Education Center posting box, 351 South Hudson Avenue, and a copy was distributed to Central Library for posting this 4th day of February, 2016, at 5:30 p.m., and that copies hereof were faxed or delivered to each member of the City Council and the PUSD Board of Education, and to each local newspaper of general circulation, radio or television station requesting notice in writing, all of which recipients are identified on the distribution list set forth herein below.
_______________________
Mark Jomsky, CMC
City Clerk
DISTRIBUTION:
Mayor and City Council Central Library Pasadena Weekly
PUSD Board of Education Los Angeles Times Public Information Officer
City Manager La Opinion Star News
Superintendent of Schools Neighborhood Connections Pasadena Now
City Attorney Pasadena Journal Pasadena Independent