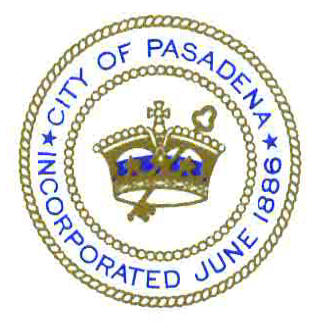 CITY OF PASADENA
NOTICE OF A SPECIAL JOINT MEETING OF THE
FINANCE COMMITTEE AND/OR THE CITY COUNCIL
NOTICE IS HEREBY GIVEN that a special joint meeting of the Finance Committee and the City Council will be held Monday, May 23, 2011 at 3 p.m. in Council Chambers Room S249 at City of Pasadena City Hall, 100 N. Garfield Ave., Pasadena, California.
A. CALL TO ORDER

B. *PUBLIC COMMENT

C. NEW BUSINESS


http://cityofpasadena.net/Finance/2012_Operating_Budget/

D. INFORMATION ONLY

E. ADJOURN
_____________________ _________________________
BILL BOGAARD CHRIS HOLDEN
Mayor Chair, Finance Committee
I HEREBY CERTIFY that this notice, in its entirety, was posted on the City of Pasadena City Hall bulletin boards in Council Chambers area and north entrance at 100 N. Garfield Ave., Pasadena. and a copy was distributed to the Central Library for posting this 19th day of May, 2011 by 5:30 p.m. and that copies were faxed or delivered, to each local newspaper of general circulation requesting notice in writing, all of which media recipients are identified on the attached distribution.
Distribution:
City Council Los Angeles Times City Manager
Star-News City Attorney the Pasadena Weekly
City Clerk La Opinion Main Library
Pasadena Journal Council Chambers Bulletin Board City Hall Front Kiosk